Entry 8
It is hard to believe that anything positive could come out of 2020, but like much of innovation in the past, our current situation necessitated it. While not all innovation requires a problem to fix, but seeing a problem, could be the very inspiration to create something new, or improve upon existing systems.
"The hardest part of learning something new is not embracing new ideas, but letting go of old ones." Todd Rose
Since the start of 2020 and the global pandemic, tech companies, educators, school boards and nearly every business and institution has tried to find creative new ways of operating during a pandemic. The initial solution was for everyone to stay at home. While this was successful for a while to keep the infection rate from climbing, it did not help the economy or help our students learn. Schools tried to pivot to an online model of education with mixed results and some companies figured out that many of the jobs that "couldn't be done from home," suddenly were being done from home. A number of companies stepped up to offer their services for free or to provide donations during the first few months of the pandemic. Crocs donated 10, 000 pairs of shoes to frontline workers in the U.S. as part of their "A Pair for Healthcare" program. U-haul provided 30 days of free self-storage to college students in Canada and the U.S. who were impacted by the Coronavirus. Adobe Computer Software provided free access to their Creative Cloud Desktop apps to help facilitate distance learning for teachers and students.
What are some innovations that have come out of 2020?
Innovation is the process of adding value to an existing product or idea, through modification or applying novel, creative solutions to pre-existing problems. Innovation requires and open-mind and managed risk taking. Innovation is the implementation of creative ideas that lead to positive, effective change.
There have been some creative high and low tech innovations to come out of 2020. Here are just a few:
High Tech Solutions
A university in Tokyo is proving the opportunity for students to view surgeries using virtual reality. Prior to COVD-19, students had to peer over a surgeon's head. Now they can watch surgeries with an uninterrupted view using VR. While only two students can currently watch the surgery in real time, the university plans to expand their capabilities. Also, the surgeries are being recorded and can be shared locally or globally and for use in conferences. This innovation may prove to be a superior way to learn going forward.
Two engineering students from India won the Code19 Hackathon for creating a virtual classroom to enable uninterrupted learning during the COVID-19 pandemic. Their winning entry, iClassroom, connects students with teachers through a social media-type interface. Students and teachers can interact with each other, answer questions, mentor others and conduct online classes. iClassroom was created by 19-year-old Abhinand C and 20-year-old Shilpa Rajeev, both students at Government College of Engineering in Kannur. According to Shilpa Rajeev, the platform will enable learning communities to interact with each other, share resources and keep track of progress in selected courses, without the need to use multiple communication tools.
Low Tech Solutions
Not all innovation needs to be high tech to improve our lives. Simple, but practical low tech solutions can make it possible for students to return to the classroom. Here are two examples:
Tent Classrooms can allow students to safely return to school. Pop-up teaching spaces can be erected on the playground or next to the school to provide opportunities for students to learn in a socially distanced way. Some countries, including Denmark are considering adding these pop-up classrooms into their future school design to allow for outdoor learning.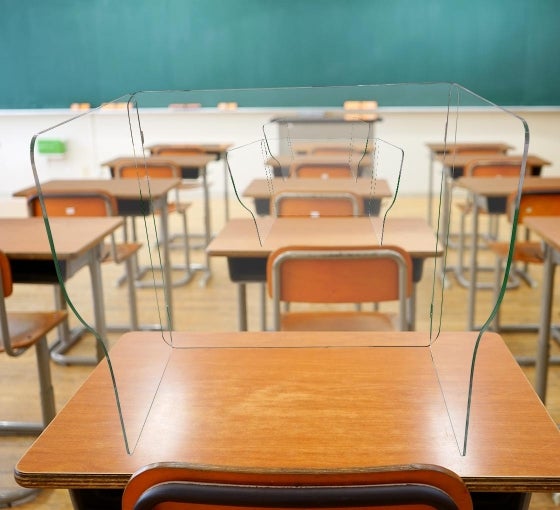 Schools without the ability to adequately space students due to class size or physical classroom space, have opted for Plexiglass work stations for their students. Students can still see their teachers and classmates, and safely learn behind the barrier. This low cost, low-tech solution in combination with masks wearing, can provide an extra layer of security for teachers and students.
Many tech tools showed us that we do not physically need to be in the same space to learn from one another and communicate. Hybrid learning and working has also proven to be an effective way to keep students engaged. When we finally leave the Corona Virus behind, let's hope the innovations and good will we gained through dealing with a pandemic endure.
Sources:
Springwise. (2020, July). Top Five Education Innovations In Response to Coronavirus. https://www.springwise.com/innovation-snapshot/education-schools-coronavirus
Caruso, C., 2020. 9 Companies Stepping Up to Do Good Amid the Coronavirus Pandemic. Global Citizen. https://www.globalcitizen.org/en/content/companies-stepping-up-to-do-good-coronavirus/